The water tank refurbishment has been always represented a much more cost effective solution compare to replacement of a new water tank. Summerland Water Tank Sdn Bhd offer the water tank refurbishment services for outdoor pressed steel water tank, as well as refurbishment for stainless steel sectional water tank.
The internal surfaces of steel and galvanized steel water tanks and structures are often excessively corroded and water tank refurbishment services could be the perfect solution.
Why Water Tank Refurbishment Services
Our water tank refurbishment service is a complete package of water tank services which including water tank inspection, water tank cleaning, water tank repairing and water tank coating & lining.
Water tank can get corroded and leakage, dirt and bacteria can accumulate over the time, while replacement of water tank could seem too costly. Summerland Water Tank Sdn Bhd assists in refurbishing your water tank in a reasonable price.
Water Tank Refurbishment Services: Water Tank Types
Sectional Panel Pressed Steel Tank (PST Tank)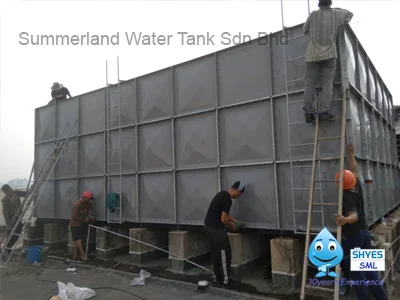 Sectional Panel Fibreglass Reinforced Plastics Tank (FRP Tank)
Water Tank Specialist Malaysia
Specialized in water tank cleaning , water tank repair, water tank refurbishment , water tank coating , water tank HDPE lining, rc tank waterproofing